Yemi Sax Is Officially Off The Market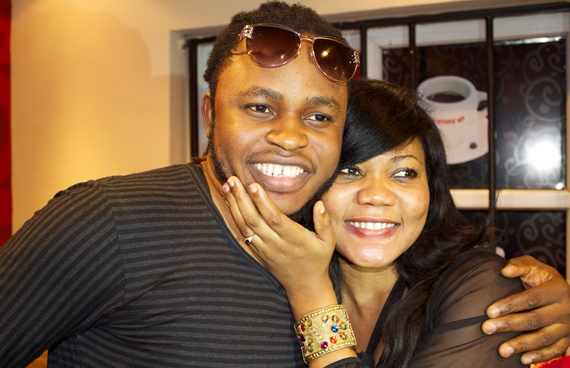 It was gathered that Yemi Sax proposed to his long time girlfriend Sholatayo Durojaiye at the Cold Stone Creamary Bar where friends of the couple had gathered for a small outing.

Friends of the couple said they will be getting married later on in the year.

Yemi Sax over the years has built a reputation as one of Nigeria's more consistent saxophonists and live performers; delivering acoustic remixes of many popular hits -ranging from tracks released by Pop singer D'banj to Fuji singer Pasuma Wonder.
Below is his proposal note to her....

Adeshola Sholatayo Durojaiye,

The first day I met you Shola, my heart beats, and something said to me, this is the mother of my children and the woman specially made for me from heaven. This has never happened to me ever since I've grown up to be a man. I've met so many ladies but you are a rear germ and can't be compared to any of them.

Today i look in to your eyes to tell u this
1. U are the true definition of love
2. U are the true definition of a good woman,
3.U've brought nothing but hapiness to my life
4.Your love to me is more than anything in dis world
5. You are the apple of my eyes
6. I love u so very much Shola
7.I cherish u very much Shola
8. I love the way u love and take care of me not as a grown up man but as your baby
9. U've proofed to me that real love still exists
10. U are beautifull from inside and also from outside
11. Words can not express the way i feel for u and i pray today that God allmighty will crown your effort and always be with u everyday of your life.
12. Thanks for the joy,hapiness,growth,fufilment,new life,and love u brought to my life ever since i met you and thanks for bringing out the real man in me.
13. PLS PLS PLS, Adeshola,with humbleness,with sincerity,with no pride,with love, with emotions,with respect,and with joy from inside, mo fi oriade bee, I BEG YOU IN THE NAME OF GOD ALMIGHTY,WILL YOU PLEASE MARRY ME? so that this joy i feel from inside will be forever.
(Adeyemi joseph olufemi Adeosun) a.k.a No 1 sax boss African sax oracle YEMISAX......

The ring presented to Sholatayo is an 18carat Gold ring with diamond stones cubic zircronia and black zephire stones.
Congrats to Yemi and Shola