CDS Visit to NDA to Assess Bandit Attack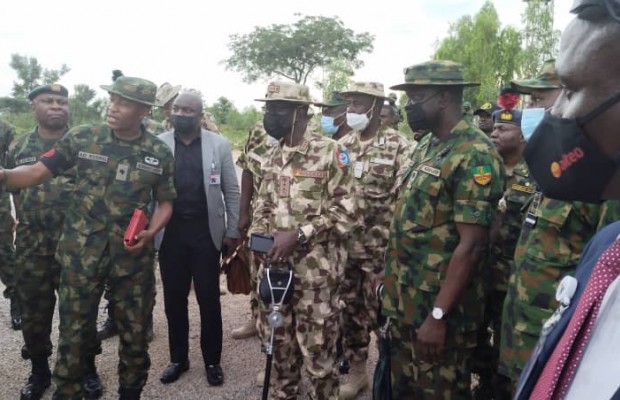 The chief of defense staff visited Nigerian Defense Academy over the Tuesday armed bandits attack. The CDS and his entourage and other senior military officers were received at the Kaduna international airport by the NDA commandant and other senior officers of the academy. 
The visit was aimed at getting firsthand information on the incident for further appropriate action. The CDS was briefed by the commandant and later taken to the scene of the incident.
An assessment of the kidnap incident revealed that the bandits gained access and escaped by breaching the barbwire fence of the academy along the airport road in Afaka.
The bandits successfully broke into 5 different flats in the same block and swiftly withdrew before the intervention of troops. Further assessment revealed that the bandit's escape route leads across the airport road to an open farm/bush area near Gidan Gado village in Afaka.
The bandits are believed to have escaped either To Buruku and Maguzawa axis or the Riyawa axis in Igabi LGA which is known as notorious bandits' hideouts.