Rescued migrants recall Libya 'hell'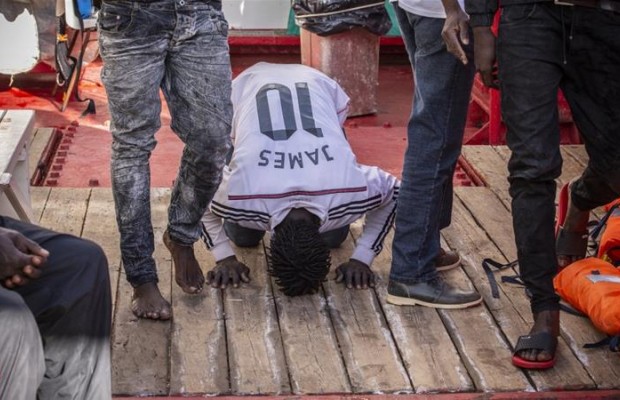 Onboard the Ocean Viking in the Mediterranean - Forty-two-year old Florent took off his life jacket, knelt to the floor of the Ocean Viking, a migrant rescue vessel, and let out a roar.
He looked up, index fingers pointing to the sky as tears rolled down his cheeks, trickling between grease stains and cracked, dry skin on his face. His eyes were red, not least from the trauma of being out on the sea for more than 36 hours after spending five years in Libya.
Florent, after being rescued together with 89 other migrants and refugees from an overcrowded rubber boat in distress in the central Mediterranean, said "If I die right now, I'll die with no regrets. I've managed to escape Libya. It was hell. Nothing less than hell,
Karim, a 16-year-old from Ivory Coast, whose dream of playing football in Europe led him to run away from home in 2016 without telling his parents also said there is complete lawlessness in Libya. According to him, everyone has guns and knives. and there are no rights for black people, even someone who has been stabbed or shot.
Libya acts as a major gateway for African migrants hoping to reach Europe. According to the United Nations, there are more than 40,000 refugees and migrants in Libya. However, a 2018 UN report highlighted that migrants are subjected to "unimaginable horrors" from the time they enter Libya, during their stay and in their attempts to cross the Mediterranean if they make it that far.