Odemwingie Pleased With Stoke City Debut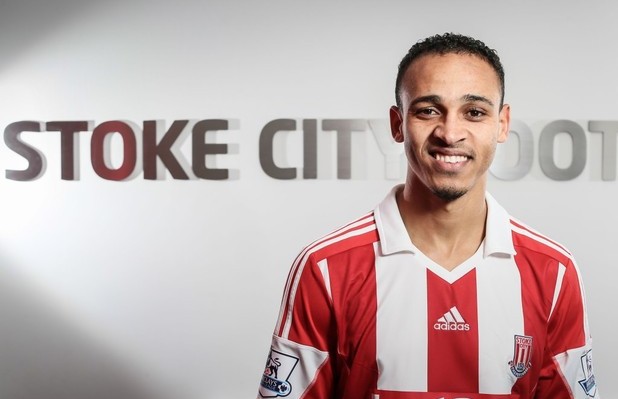 Nigeria striker, Peter Odemwingie has spoken of his delight following his Barclays English Premier League debut for Stoke City.
Odemwingie completed an 18-month move to the Britannia Stadium on January 28 and was immediately thrown into the deep end by the Stoke manager, Mark Hughes against Manchester United on Saturday.
The attacker played all 90 minutes as the Potters beat the champions 2-1 at the Britannia Stadium.
He has now voiced his sentiments after the win that sent the supporters into raptures and took the club up to 12th on the standings.
"Had a fantastic day yesterday (on Saturday). Big thanks to the Stoke City fans for the warm welcome and great support.
"The atmosphere was awesome," he confessed on Twitter to his 207,937 followers via @OdemwingieP.
Odemwingie hogged the headlines for all the wrong reasons just over a year ago when he was frozen out of the first team at West Bromwich Albion after he unsuccessfully tried to force a move to Queens Park Rangers.
The 32-year-old was not looking to make a similar mistake this time round and confessed that he was willing to err on the side of caution.
"This time, I was the last to confirm the move. 99% wasn't enough for me," he added.
Many eyebrows were raised when it was announced that Odemwingie was joining Stoke from Cardiff City, a side he moved to from the Hawthorns just over six months ago.
Odemwingie has fond thoughts for the newly-promoted side and voiced his sentiments about leaving the club during the January transfer window.
"Congratulations to CCFC (Cardiff City Football Club) on their win (against Norwich City) yesterday (on Saturday). Will miss the boys. Had the best ever Christmas do with them. Some funny boys there.
"I had a great time in Cardiff. Thanks to the fans and the people of the City. Wish the club a lot of success. Up Bluebirds!!!," he tweeted.
The forward concluded by looking ahead to Stoke's next Premier League game against Southampton on February 8.
"Now looking forward to our next game away to Southampton. Wish everyone a good week ahead," he added.