INEC Seeks Stricter Laws to Prosecute Political Party Chieftains, Candidates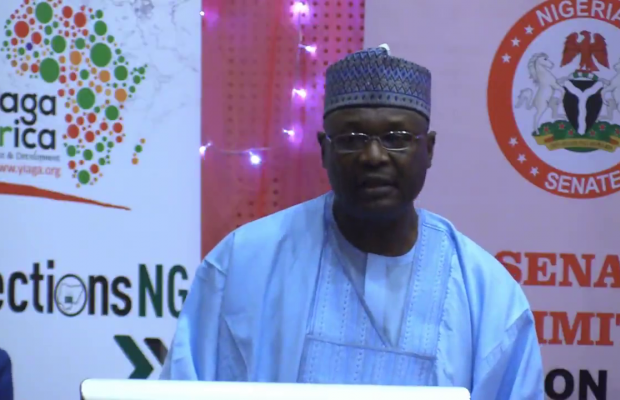 Chairman of Nigeria's electoral body, INEC, Professor Mahmoud Yakubu says he looks forward to the trial of chieftains and candidates of political parties that engage in electoral offences.
Galaxy's Godfrey Eshiemoghie reports that the INEC boss made this submission Thursday at the public hearing on a bill for an Act to Establish the National Electoral Offences Commission. 
Professor Yakubu said Nigeria's electoral process is so marred by irregularities that it is unthinkable to not bring anyone to book.
The INEC Chairman said a total of 124 cases were filed by the electoral body against offenders after the 2015 general polls with only 60 convictions secured.
The Senate President who was represented at the event, Chairman of the Committee on INEC, and sponsor of the Bill on Electoral Offences Commission also underscored the crucial need for an enabling law that sanctions electoral offenders.
A cross-section of stakeholders echoed the need for stricter punitive measures to serve as effective deterrence against electoral offences.
The Bill under consideration proposes, among other things, to establish an independent special prosecutorial body to be known as the Electoral Offences Commission which will work to arraign and prosecute electoral offenders.