INEC Chairman Hands Over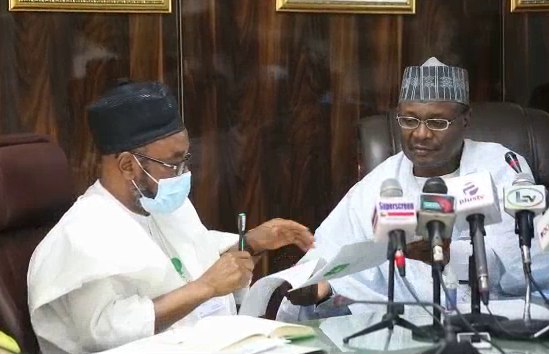 INEC Chairman Professor Mahmood Yakubu has formally stepped aside after serving his first tenure as INEC Chairman.
Professor Yakubu who handed over to the national commissioner Air Vice Marshal Ahmed Muazu (RTD) is taking a bow to enable him to face the senate for confirmation.
At a brief ceremony held at the commission's headquarters on Monday, professor Yakubu expressed President Muhammadu Buhari and INEC staff members for the cooperation he received from them during the first five-year tenure.
Ahmed Mu'azu who is also in charge of the electoral logistics committee of the commission said he will do he best to ensure that the progress of the commission is sustained
The new acting chairman will serve in an acting capacity pending the confirmation of Professor Yakubu's re-nomination or otherwise by the Senate.
Prior to the ceremony, a national commissioner in-charge of Estate, Works and Transport Committee representing North-West, Engr. Abubakar Nahuche resigned his appointment on personal reasons.
A statement from the national commissioner in-charge of information and voter education, Festus Okoye said President Muhammadu Buhari accepted Nahuche's resignation and thanked him for his service to the nation.