Fire razes Akesan market in Oyo town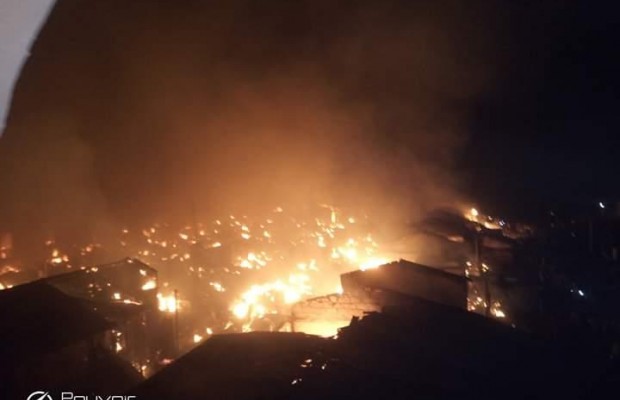 Tragedy struck in Oyo Town in the early hours of Sunday, January 5, 2020, as fire razed the popular Akesan Market in Oyo, the town's main commercial center.
The inferno which source is yet to be determined razed almost every part of the market and destroyed goods worth several millions of naira.
It was gathered that the incident started around 3 am on Sunday as residents closer to the scene raised the alarm about the incident.
According to an eyewitness account, only a few shops and a filling station were spared by the early morning inferno.
It was gathered that the Fire Service based in Oyo and just less than 20 meters to the Market could not mobilize to stop the raging fire as officers claimed their equipment was not functioning. 
Firefighters then had to be mobilized from Ibadan, the Oyo state capital to the Town due to the fact that Ibadan is closer to the scene of the inferno than Ogbomosho.
A source from the Secretariat of the state fire Service in Ibadan confirmed that the fire service office in Oyo town has been vandalized by the aggrieved residents while men of the Nigeria Army and their counterpart from the Nigeria Police Force have been mobilized to the area.
As at the time of this report, sympathizers have converged on the scene but could not salvage anything due to the intensity of the fire.