ELECTORAL ACT: Supreme Court Reserves Judgment in Buhari's Suit on Section 84 (12)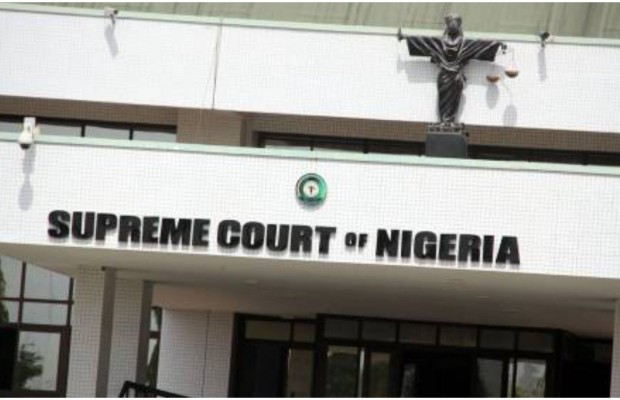 The Supreme Court has reserved judgment in the suit by President Muhammadu Buhari and Attorney General of the Federation, Abubakar Malami, seeking interpretation of Section 84(12) of the Electoral Act. 
 Justice Muhammad Dattijo led a seven-member justice panel at the Supreme Court Thursday and said the date for the delivery of judgment will be communicated to all parties- the National Assembly, Speaker Rivers State House of Assembly, and the Attorney General of the State.
 Galaxy's Godfrey Eshiemoghie reports that proceedings commenced with the All Progressives Grand Alliance APGA and the Nigeria Bar Association NBA seeking to be joined in the suit as interested parties. APGA, through, its counsel, Kelechi Anwu, however, opted out, by withdrawing its application for joinder, which was subsequently struck out by the apex Court panel. 
 Counsel of the NBA, Charles Mekwunye [SAN] said the Association has a particular interest in being a part of the suit because the average Nigerian lacks representation in the matter. The plaintiffs, through their Counsel, Lateef Fagbemi [SAN] objected to the NBA becoming an interested party, but the apex Court panel recommended that the NBA played the role of an impartial adviser or amicus curiae, and that stood eventually.
Counsel to the Rivers State government, Emmanuel Ukala [SAN] said Buhari lacks locus stand to institute such a suit as he is not directly affected by the Section 84 [12] of the Electoral Act, insisting the appointees who the Section shuts out of participating in party elective conventions and so on should have done so.