Accident Claims Six Lives along Ibadan-Ife Expressway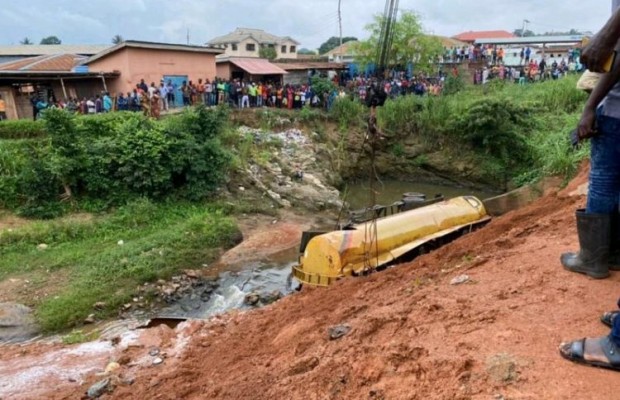 Six persons have been confirmed dead as a truck filled with the Premium Motor Spirit (PMS) rammed into a commercial cab, popularly called Micra in Ibadan, the Oyo State capital.
The accident occurred in the early hours of Monday at Celica Junction along Ibadan-Ife Expressway.
An eyewitness, who identified himself as Sunday, explained that the fully loaded truck veered off the road with the taxi before plunging into a nearby ditch and fell on the cab. The six occupants of the taxi were reportedly crushed on the spot.
Officers of the Oyo State Fire Service and Federal Road Safety Corps (FRSC) were said to have rushed to the scene and put off the fire from spreading, while officers of the road safety were seen controlling the traffic.
When contacted, the Assistant Director of Fire Service in Oyo State, Moshood Adewuyi, confirmed the incident. He added that his men from Gbagi Station were deployed to the scene for the rescue operation.
Adewuyi added that the truck fell on the cab and killed all the occupants on the spot.
Meanwhile, Residents of Celica community in Ibadan have called on the Federal Government for the timely completion of the ongoing road rehabilitation work on the Ibadan-Ile Ife expressway, which has lasted for over a year.
They maintained that the road has claimed several innocent lives, saying all hands must be on the deck towards the timely completion of the project.