Nigerian couple celebrate16th wedding anniversary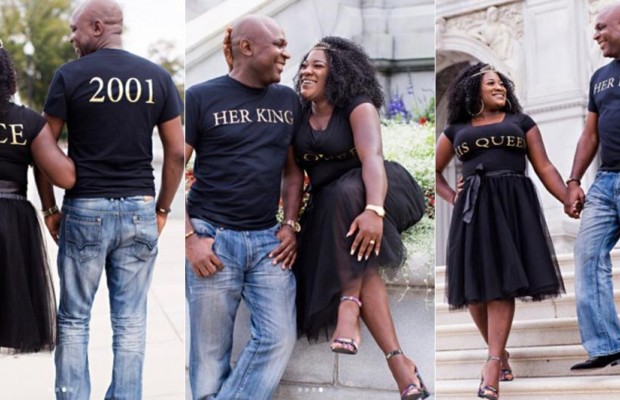 This couple got engaged 3 days after they met have shown that long courtship is not a vital means to a successful marriage.
---
Nigerian lady, Seun Obajolu took to social media to share her strange but unique love story with her hubband who proposed 3 days after they met each other.
She shared her story while celebrating their 16th wedding anniversary. Seun Obajolu gushed about her husband being a 'crazy guy' who is convinced to have found his second half shortly after they met.
Being grateful for the love and support, she acknowledged how her hubby has always got her back.
What a remarkable love story! This is married at first sight and not the regular love at first sight.
See her full love story below.
We are not the typical love story !
You proposed 3 days after we met, convinced I was the one for you while I'm thinking, "who is this crazy guy"? Yet, still going with the flow but with peace within that I was NOT making a mistake .
We were married in 10 months and 16 years on, we are still here! You, sure that I'm still the one for you and I, super convinced that you were meant for me.
Our marriage has not been perfect but all of the imperfections has taught us to love each other even better and brought us even closer.
Here's toasting to 16 more years and lots more with you my "crazy lover", my husband, baby daddy, father and friend Tunde Obajolu
Thank you for being my back bone, working with my imperfections and supporting my dreams!
Happy 16th year Wedding Anniversary to us!!!!!