Yoruba Nation Agitators Warn Beninise Govt Not to Extradite Sunday Igboho to Nigeria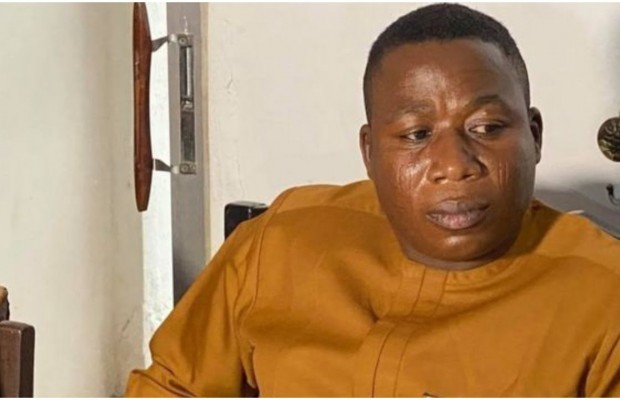 Agitators for the secessionist of Yorubaland on Wednesday registered their displeasure against the planned extradition of the Yoruba Activist, Sunday Adeyemo also known as Sunday Igboho who is currently in detention in the Benin Republic.
The Youth stormed Ibadan, Oyo State capital, with placards of various inscriptions demanding that the extradition of Yoruba freedom fighters, to Nigeria should not be granted by the Beninese government for any reason.
The protest which began at his Soka Ibadan residence disrupted vehicular movements on major roads across the vicinity, while they proceeded to the streets, calling for Igboho's freedom with their various placards.
Correspondent Kunle Ojo reports that the protesters added that Igboho had committed no offence and as such should be allowed to move freely without being hunted.
While speaking with journalists, the leader of the protest said it was unjust for the Yoruba nation agitator to be detained outside the Nigerian jurisdiction, vowing that the agitation would not stop until their demands are met.
Others appealed to traditional rulers in the Southwest region to rise up for one of the sons and ensure his unconditional release from the Benin Republic.
They called on southwest governors to equally rise up and fight for the people that put them in position. 
On those arrested at Soka during the invasion of Igboho's house as well those nabbed during the Lagos rally, the agitators demanded the release unconditionally.
Recall that Igboho was arrested at the Cadjèhoun Airport in Cotonou, Benin Republic around Monday night by security operatives in the West African country and consequently detained.
Meanwhile, the Nigerian government had since been pushing for his extradition to Nigeria but many individuals and groups have kicked against this move.