Portable Releases Official Statement Apologizing To Headies.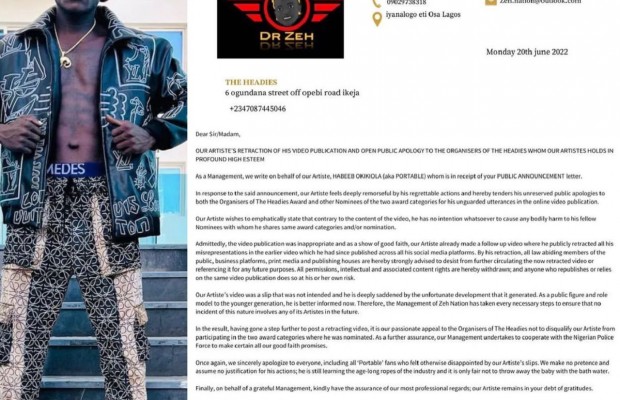 Following recent disqualification from popular award event, singer, portable tenders apology statement.
It read;

Dear Sir/Madam,

OUR ARTISTE'S RETRACTION OF HIS VIDEO PUBLICATION AND OPEN PUBLIC APOLOGY TO THE ORGANISERS OF THE HEADIES WHOM OUR ARTISTES HOLDS IN PROFOUND HIGH ESTEEM

As a Management, we write on behalf of our Artiste, HABEEB OKIKIOLA (aka PORTABLE) whom is in receipt of your PUBLIC ANNOUNCEMENT letter

In response to the said announcement, our Artiste feels deeply remorseful by his regrettable actions and hereby tenders his unreserved public apologies to both the Organisers of The Headies Award and other Nominees of the two award categories for his unguarded utterances in the online video publication.

Our Artiste wishes to emphatically state that contrary to the content of the video, he has no intention whatsoever to cause any bodily harm to his fellow Nominees with whom he shares same award categories and/or nomination.

Admittedly, the video publication was inappropriate and as a show of good faith, our Artiste already made a follow up video where he publicly retracted all his misrepresentations in the earlier video which he had since published across all his social media platforms. By his retraction, all law abiding members of the public, business platforms, print media and publishing houses are hereby strongly advised to desist from further circulating the now retracted video or referencing it for any future purposes. All permissions, intellectual and associated content rights are hereby withdrawn; and anyone who republishes or relies on the same video publication does so at his or her own risk.
Our Artiste's video was a slip that was not intended and he is deeply saddened by the unfortunate development that it generated. As a public figure and role model to the younger generation, he is better informed now. Therefore, the Management of Zeh Nation has taken every necessary steps to ensure that no incident of this nature involves any of its Artistes in the future.

In the result, having gone a step further to post a retracting video, it is our passionate appeal to the Organisers of The Headies not to disqualify our Artiste from participating in the two award categories where he was nominated. As a further assurance, our Management undertakes to cooperate with the Nigerian Police Force to make certain all our good faith promises.

Once again, we sincerely apologize to everyone, including all 'Portable' fans who felt otherwise disappointed by our Artiste's slips. We make no pretence and assume no justification for his actions; he is still learning the age-long ropes of the industry and it is only fair not to throw away the baby with the bath water.

Finally, on behalf of a grateful Management, kindly have the assurance of our most professional regards; our Artiste remains in your debt of gratitudes.