Fire destroys fabricated oven in Ibadan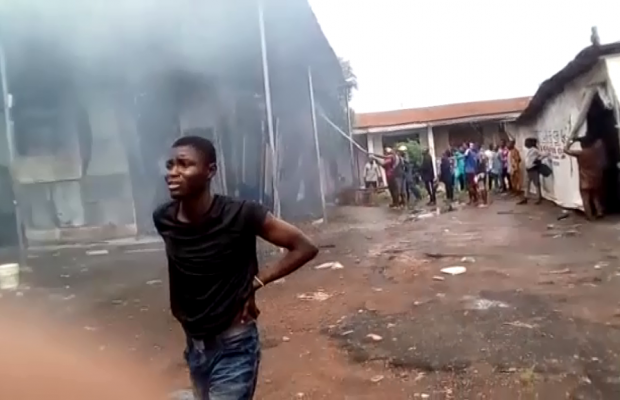 Property worth millions of naira was up in flame today around Samonda area of Ibadan, Oyo state capital when a fabricated oven was completely razed.
---
The incident which occurred around 10 am caught shop owners and other residents of the area by surprised as the entire complex which housed cars and baking factory was up in flame.
Correspondent Kunle Ojo who was at the scene of the incident learnt that workers in the factory were on their routine exercise when they noticed smoking coming out of the industrial generator which later spread to other parts of the complex.
All attempts by the workers and other sympathizers to salvage the situation proved abortive and the entire complex was on flame. Ten cars were recovered from the scene of the inferno.
The timely arrival of officers of the Oyo state fire service and men of the Nigeria Security and Civil Defence Corp prevented the fire from spreading to other shops in the complex.
Speaking on the course of the inferno, the principal fire superintendent of the Oyo state fire service, Odebunmi Gbadebo says the officers were informed about the incident by officers of the state command of Nigeria Security and Civil Defence Corp adding that the makeup of the fabricated oven and other flammable materials in the complex increased the intensity of the fire.
The entire oven including the industrial generated and other materials were completely destroyed.