Edo task force train over 500 returnees on different vocation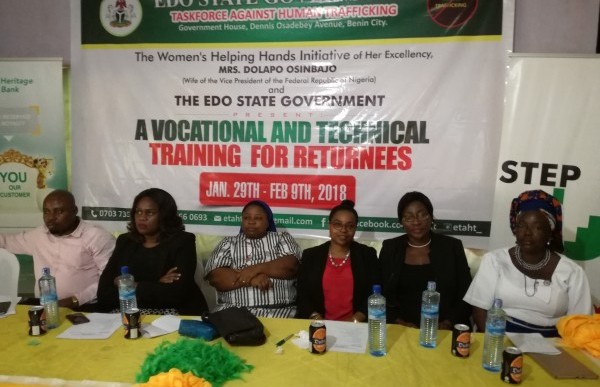 Chairman of Edo State Taskforce against Human Trafficking, Prof Yinka Omorogbe, says it has trained over 500 Libya returnees on various vocations that will help them become self -reliant and productive.
---
The task force chairman who also doubles as the Attorney General and Justice Commissioner made this known when he met with newsmen at the council secretariat of the Nigerian Union of Journalists in Benin-City.
She said with Edo been at the spotlight of human trafficking in the country and grappling with over 50 per cent cases of trafficking, noted that the task force has been involved in different programmes such as advocacy, investigation, prosecution and rehabilitation.
Prof Omorogbe, said the task force currently has 4943 returnees, with 3329 males, 1400 females and 214 children under the returnee welcome programme most of whom arrived in Lagos.
Fielding questions from journalists, the task force chairman, says the Libya returnees have now been renamed GO- GETTERS, aimed at reintegrating them into the society without stigmatizations.
According to the task force chairman this mandate is given by Governor Godwin Obaseki to eradicate human trafficking in Edo state.