Trump arrives Vatican, meets Pope Francis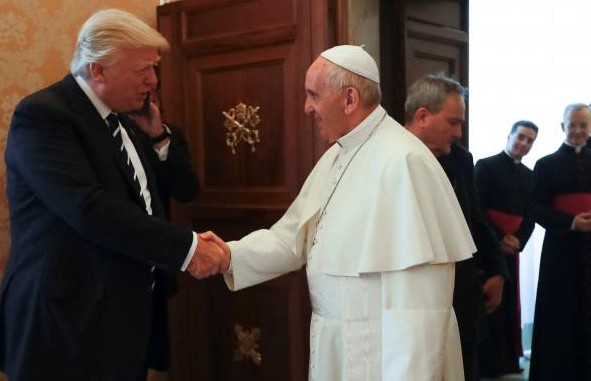 U.S. President Donald Trump has arrived Vatican for talks with one of his most high-profile critics, Pope Francis, after the two men exchanged sharp words during the presidential campaign last year.
---
 Under clear blue skies, Trump received a tribute from the Swiss Guard in a Vatican courtyard where he was greeted by Archbishop Georg Ganswein, the prefect of the pontifical household.
Trump looked uncomfortable as he entered a small elevator taking him to the third floor of the Apostolic Palace, where he was accompanied by Ganswein and other officials along a frescoed corridor to the pope's private study.
Following behind Trump were daughter Ivanka, her husband, Jared Kushner, a top White House aide, national security adviser H.R. McMaster and adviser Hope Hicks.
The pope did not smile as he greeted Trump outside the study. Trump, seeming subdued, said "it is a great honor."
The two men then posed for photograghs and the pope kept a stern face while Trump beamed for the cameras. The meeting began at precisely 8:33 a.m.
Trump's meeting with Pope Francis, his third stop on a nine-day foreign tour due to end on Saturday, is part of his world tour of religions after meeting leaders of Muslim nations in Saudi Arabia and visiting holy sites in Jerusalem.
But while his talks in Saudi Arabia and Israel were mostly friendly, the meeting between the head of the Roman Catholic Church and the thrice-married, blunt-spoken Trump could be a little more confrontational.
 soteurce: reuters