NTFS Holds First Edition In 2013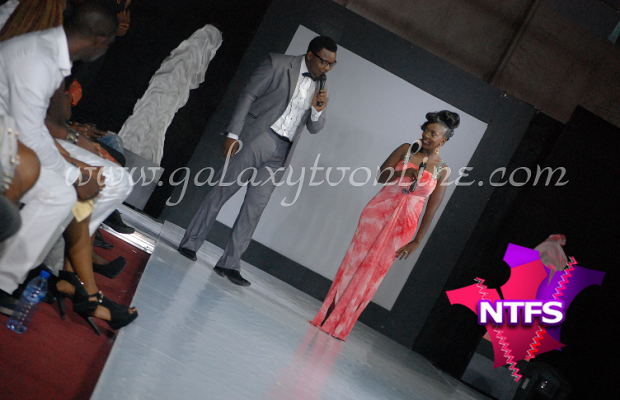 Yard 158 on Sunday played host to scintillating musical performances from Olamide and Phyno as the Nigerian Television Fashion Show (NTFS) brought down to earth the very best of the Fashion Industry with its run way show themed ELEGANCE.
Red carpet kicked off at 2pm with our very own super star anchors, Collins Talker (of Reel Nollywood and Kruzzin), Ezinne Anounye (also of Kruzzin) and Amaka Ukandu (of Campus 360), all of Galaxy Television. They fielded questions to guests on their expectations, the creative ideas behind their dress sense and what informs the styles they wear. The session which lasted for an hour also brought to bare the thinking that informs the spectacular designs produced by some of our guest designers. Notably amongst them was Naomi, CEO of Nahomi Fashion Statement Label who expressed that the theme of the show (Elegance) is the very hallmark of her designs on the Runway. Nahomi specializes in male attires and her perfect cuts and stylish designs have won her accolades from fellow designers as well as from customers who described her as exceptional.
The show proper kicked off at 3pm as Alero (of Solid Entertainment on Galaxy Television) and popular comedian, Frank Onero opened the curtains on the Runway.
On showcase were designs from Eternally Zoe Couture, Hafshelline, Fashion Fusion, and Iyobosa who dazzled guests and audience with their international acclaim designs. Also on our runway were spectacular designs from D-ware Outfits, Arewa Fashion Creations, Nahomi Fashion Statement Label, Pamilerin and Dadu Bajo. It was a beautiful display of designs, styles, splendor, glamour, uniqueness and elegance.
More fantastic designs followed as Adunni Oge, 3cia Afrique, Araewa Fashion Creations and Bide Africana all wowed the audience with eye catching and elegant styles.
Accessories were also on showcase, from Belle Signature and Bright Future Concepts". It was the most beautiful show I have ever been to" a guest reeled into indescribable delight.
Entertainment was at its best as performances from Olamide (Bend down low crooner), Phyno, and Yemi Alade lifted the crowd to a frenzy never seen. Konga and Ozybosco (the wonder kid) had every guest rhyming to their songs as feet tapped on the floor to the rythym of their beats.
The last performance rang true of the saying, "save the best for last" as Olamide peaked the show with his hit tracks. The fast rising street music artiste brought down the roof and threw the guest into huge excitement as seats became empty when everyone got up and were at their dancing best.
The show came to a rousing conclusion and the word on every tongue is "when is the next edition of NTFS.
IF YOU'VE EVER MISSED AN EVENT, DON'T MISS THE NIGERIAN TELEVISION FASHION SHOW… BROUGHT TO YOU BY Nollywood Worldwide Entertainment.